RACK TOOL MAGAZINE MUK SERIES
Download the Italian information brochure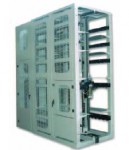 The rack tool magazine is an accessory electrically and pneumatically controlled, it is designed to operate connected to and controlled by a machine tool or a working center.
The magazine can be installed both on the ground or on the base of the machine tool, and can keep 136 to 292 tools. Its specific function is to store and supply tools to the machine via a pneumatic gripper that picks up the tools from the appropriate locations and with speeds up to 70 m/min.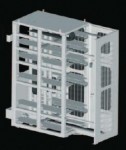 This is made with three movements controlled by CN (horizontal, vertical and 180 ° rotation). By interpolation of the first horizontal rectilinear motion with the third rotation, you get the exact path for taking, transport and deposition of tools.
BASIC MODULE
Installation
Ground/On Mobile Column
Cone
ISO 50/HSK 100

Step

between the tools

110 mm/Mixed 110 - 130 mm

130 mm

Number of seats in

total

136 Step 130 H3200/145 Step 110 – 130 H3200

155 Step 110 H3200

164 Step 130 H3800

175 Step 110 – 130 H3800

187 Step 110 H3800

MAX

Weight

for

place

50 Kg

Max

tool

diameter

without

adjacent tools

350 mm

MAX

diameter

oriented

tool

420 mm

Max

tool

diameter

with adjacent

place

occupied

105 mm Step 110/125 mm Step 130

Tools

standard

assortment

for

145

seats

25 L=600 30 L=400 30 L=300 60 L=200

MAX

tool

length

600 mm

Tools center distance

800 mm

Radius of rotation

Z

axis

400 mm

Base Modul

Dimensions

W=1250 x H=3200 x L=2870 mm/W=1250 x H=3800 x L=2870 mm

Height

of

tool change

On request
(Max 70m/1')

Speed

​​MAX

Y-axis (

VERT)

(Max 70m/1')

Height

of

manual

insertion

tool

door
1350 mm
Door
1

Loading Place

L / R

Protections

Panels

with mesh

,

door

panels

,

closed

panels


Dressing

Tools

Trolley

5 Places Step 130/6 Places Step 110
EXTENSION MODULE
N ° places

On request

Added

Module Size
W=1250 x H=3200 x L=860 mm/W=1250 x H=3200 x L=1720 mm

W=1250 x H=3800 x L=860 mm

W=1250 x H=3800 x L=1720 mm
THE STRUCTURE
The frame is the backbone of the stock, made with tubular steel has the function to support and contain the remaining groups composing the system. On the frame are fixed all the tool holders and the the electrical panel for the power connections and signal from the machine tool
Possible

configurations:
L / R
H3200 / H3800
1 shoulder/ 2 shoulder
136 seats ÷ 292 seats
step 110 / 130 / 160 / 110-130
cone ISO 50 / cone HSK 100
door 1 place / 4 places
Dressin tools trolley 4 places / 5 places / 6 places

ACCESSORIES
• On request can be equipped with one or more trolleys for tools handling.
• On request it is possible to use encoders for clamp.
• Tool tracking Antenna.
• Protective fairing on all sides.
• Adjusttable stock position.
• Protection X-axis guide.
• Loading door 3/4 places.
CART

WITH

CLAMP

FOR SAMPLING
Sampling tool, delivery to the work center and storage are the three main operations for which the stock has been designed.
The horizontal, vertical and rotational, are driven by the electric motors by means of toothed wheel and rack. The rotary motion is performed by means of high-precision motor. The carts for horizontal and vertical movements are equipped with mechanical limit switch (puffer) and electromechanical.
The movement of opening and closing of the gripper is carried out pneumatically.
The gripper

is equipped with

retaining springs

for

security

in case of

lack of air

or

electrical voltage

that

retain

the tool

preventing it from falling

to the ground
.
On the rotational axis there is also a locking device that, in case of collision of the gripper in rotation with any obstacle, yields, preventing more serious damage to the gearbox and / or the structure of the gripper.
SAFETY DEVICES
The magazine is equipped with protections that prevent access to the interior to people and things, these protections can be made ​​of wire mesh, Plexiglas or PVC to customer's request.
They are composed of fixed walls and doors that open to the inspection and maintenance of the gripper and the cart, all equipped with micro switch that determines, when opening, the immediate arrest of the entire line.
Sub-Pages
SISTEMA DI GESTIONE DELLA QUALITA' UNI EN ISO 9001:2015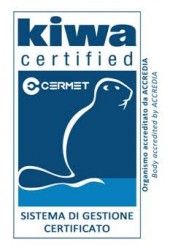 per la progettazione conto terzi di macchine utensili, macchine automatiche, accessori ed automazione per macchine automatiche